19 September – 5 November
Jennifer Morgan: Newfoundland Feminine
Artist's Reception: Saturday 23rd September, 6-7pm followed by a music concert by Gavin Simms and Jenina MacGillivray at 7.30pm (click on the link for information and booking)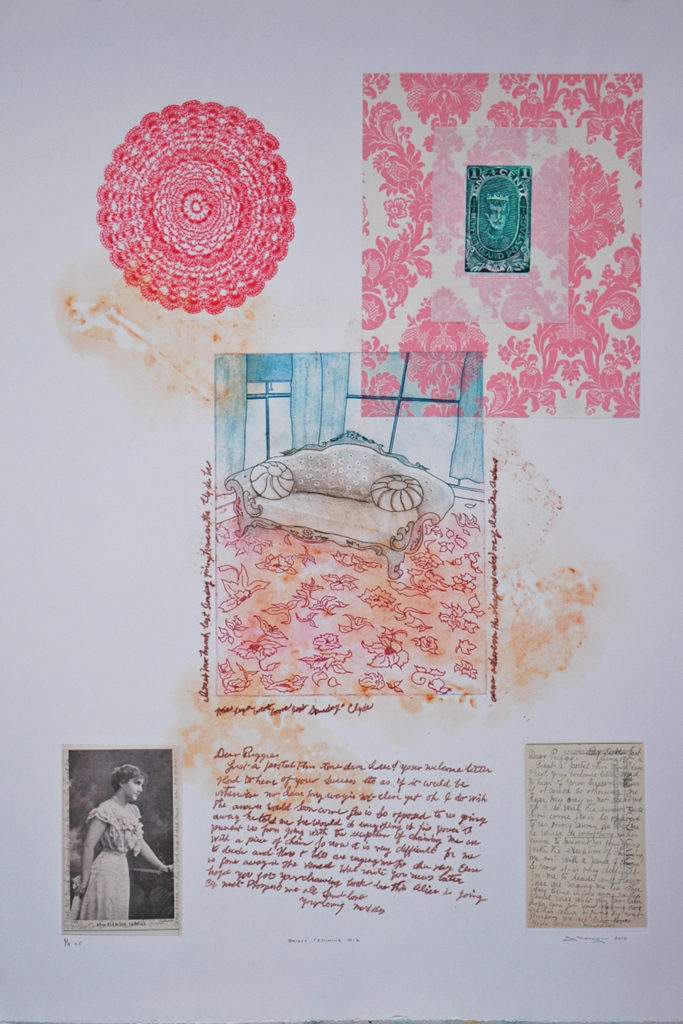 Brigus Feminine (24 x 15.5″) Mixed media collage, 2014
Jennifer Morgan is a writer, visual artist, and storyteller from St. John's. After spending fourteen years teaching and travelling throughout North America, Jennifer returned to Newfoundland in 2002, where she has been practicing her art full time. Jennifer has illustrated eight books. In 2014 the comic book that she wrote and illustrated, Almost Home: the Sinking of the S.S. Caribou won the Newfoundland & Labrador History and Heritage Award for Children's and Young Adult Literature. In November 2015, Jennifer was an artist in resident at the Advocate Press, in the Coaker Foundation—a place that combines her love of history, writing, and art.
Background to this work
In the early 1900's my great-great-aunt Emily Morgan left a collection of postcards in my family's house in Coley's Point. The collages in this show a part of a larger body of work inspired by those postcards. At the time these postcards were sent Emily Morgan was a teenager teaching school in Spaniards Bay and Little Heart's Ease, and attending teacher training in St. John's. In this series I have framed the front and the back of the same postcard with a third image. I encourage people to pick out the message in the postcards, and come up with a story that these prints are illustrating.
Woodblock engravings
The small woodblock engravings started out as an illustration project for Bernice Morgan's novella The Dragon's Song printed by Running the Goat Books and Broadsides. Emily Morgan's postcards inspired me to try my hand at old Newfoundland stamps—a real challenge. Before advancements were made in photography, everything was illustrated by engravings. Replicating Newfoundland stamps has increased my admiration for the early engravers.