We are a small venue holding up to 40 people. For popular events we can sell out. To book a place (and save yourself $2 pp too) call or email us. We will put you on the booking list and you pay when you arrive. 100% of your door money goes directly to the musicians as we believe in supporting live music as best we can. We serve alcohol, coffees, teas and soft drinks during the evening and offer some delicious complimentary bites during the interval.
Sign up for our Notification service for music events.
2019
August
Thursday 28th, 7.30pm: The Dandelion Few with Ryan Laite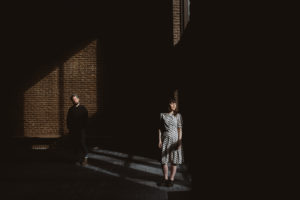 The Dandelion Few is the collaborative work of artists Tiffanie George (NL) & Seán Bradley, (IRL) whose gentle modern folk music has been described as both beautiful and dark with touches of the recent past. Often working in conjunction with other musicians and artists of various mediums, they write music reflecting themes such as the ocean, gin-soaked bar rooms, haunted mansions and almost everything in between. They have become well known for their harmony-rich vocals and intimate performances, and are currently preparing to record a follow up to their 2017 album 'Diggin Toward the Sea'.
Listen to The Dandelion Few here.
Ryan began his love for poetry and writing music at the age of fourteen. After some years spent playing in his hometown, St. John's, NL, his musical path led him to Halifax, N.S. where he spent six years honing his craft. Ryan's returned home to reconnect to his roots and is currently working on his well anticipated solo album.
$20 adv, $22 on door
.
September
Friday 6th, 7.30pm: Rube and Rake
Friday 13th, 7.30pm: Crooked Stovepipe
Friday 27th, 7.30pm: Christina Martin
October
Friday 11th, 7.00pm: Adrian House
Saturday 19th, 7.00pm: Brandon Wolfe Scott and Jenina MacGillivray
Saturday 26th, 7.00pm: Home Routes Concert