We are a small venue holding up to 40 people. For popular events we can sell out. To book a place (and save yourself $2 pp too) call or email us. We will put you on the booking list and you pay when you arrive. 100% of your door money goes directly to the musicians as we believe in supporting live music as best we can. We serve alcohol, coffees, teas and soft drinks during the evening and offer some delicious complimentary bites during the interval.
Sign up for our Notification service for music events.
2019
May
Friday 31st, 7.00pm: Zackary Lucky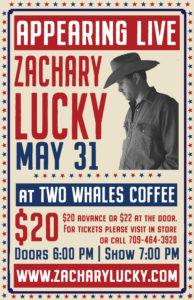 Zachary Lucky is unapologetically old-school folk, armed with a husky, baritone voice – He often receives comparisons to songwriters such as Gordan Lightfoot and Kris Kristofferson. He sings of Canadian places and people as knowingly as he might Townes Van Zandt or the Rio Grande. It's a relatable show on many levels, and conjures universal feelings that have passed through our collective timelines. Already hailed as a master storyteller by outlets ranging from No Depression to The Globe and Mail, Lucky's Everywhere A Man Can Be is his most powerful statement to date.
Within the past couple of years Zachary Lucky has performed at some of Canada's most revered folk festivals (Including stops at the Dawson City Music Festival, Mariposa Folk Festival, North Country Fair, Live From The Rock, Regina Folk Festival and many others in 2017 and 2018), and has released multiple recordings including his 2016 album Everywhere A Man Can Be, which recently garnered Zachary a 2017 Canadian Folk Music Award nomination for Best Solo Artist of the year.
Watch one of his music videos here
$20 adv, $22 on door
June
Thursday 13th, 7.00pm: Greg Smith
Sunday 23rd, 7.30pm: Fewing and Son
July
Friday 5th, 7.30pm: Melanie O'Brien
Friday 12th, 7.30pm: Sherry Ryan
Monday 22nd, 7.30: Adam Baxter
Monday 29th, 7.30pm: Rosemary Lawton
August
Wednesday 7th, 7.30pm: Madeleine Roger
Friday 16th, 7.30pm: Eamon McGrath
Thursday 28th, 7.30pm: The Dandelion Few
September
Friday 6th, 7.30pm: Rube and Rake
Monday 15th, 7.30pm: Mike Biggar and Karla Pilgrim
Friday 27th or Saturday 28th, 7.30pm: Christina Martin
October
Friday 11th, 7.00pm: Adrian House