Anastasia Tiller
STORIES AND TAILS
1 September—30 October 2022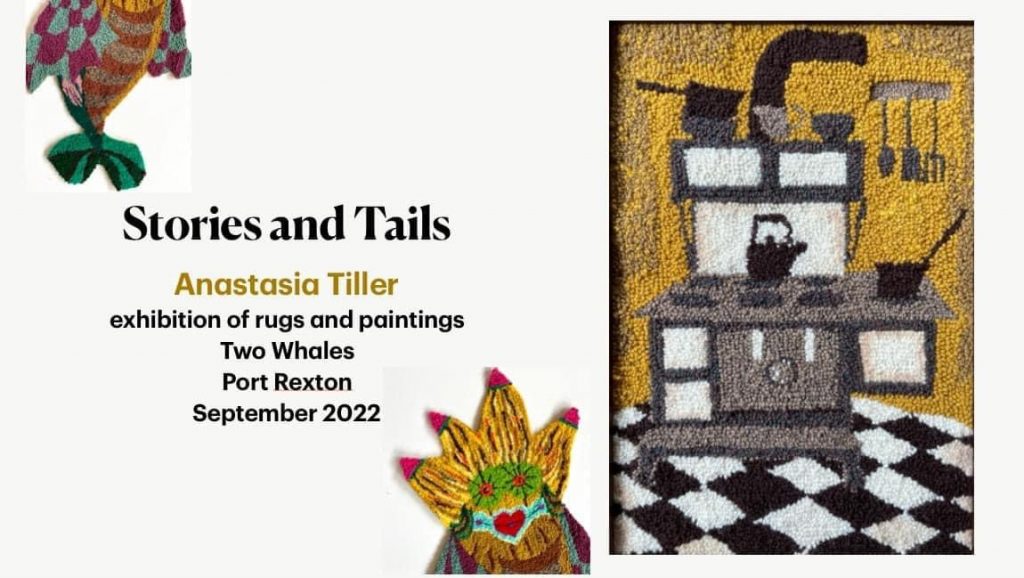 Stories and Tails is an exhibition of hand hooked rugs and paintings. The title is a ludic play on words.
The artistic body of work intertwines fantasy and real life narrative. Mystical creatures with tails and wings from fairytales are displayed next to real life images of nature and human stories.
Work was created for Two Whales Coffee Shop and is informed by nature and creative life around the area.
This positive work is intended to engage viewers emotionally to invite audience to fantasize along with the artist.
Artist Bio
Anastasia Tiller is a multidisciplinary artist living and working in Lethbridge, NL. Her work encompasses monochromatic figurative art pieces referencing photographic imagery; gestural flat paintings; colourful pointillism landscapes and murals. Her textile works move in a different direction all together. Anastasia takes a fun and whimsical new spin on the traditional Newfoundland and Labrador art of rug hooking. Hooking was a craft taken up by Tiller during the long winters in Lethbridge, NL. With a fantastical approach to ocean creatures, the imagery is a playful departure from traditional approaches. Loops of theatricality, bright pops of colour, and a flagrant optimism exude from these textile creatures which seek to brighten up the foggy or snowy days.
Tiller is actively involved in the provincial visual arts community as an art teacher as well as a member of the Visual Artists Newfoundland and Labrador and served on VANL Board of Directors for three consecutive years. She also participates in the Francophone community of Newfoundland and Labrador.
www.anastasiatiller.wix.com/anastasiatiller
instagram: @frozenpartridgeberry