1—31 August
Mitzi Smyth: Bonavista East: Revisited
Opening Reception: Thursday 1st August, 7-8pm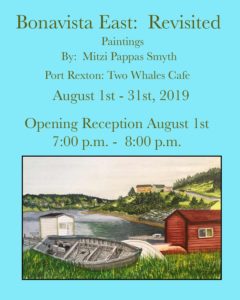 I have been visiting this area for over 20 years. This place has a magic of it's own and a very rich history. Painting the landscape with all it's diverse scenery is a challenge and yet I have this desire to attempt to preserve the history of what I've chosen to paint. I love the detail, colours, and the vastness of the land with all it's different types of plants, rocks, coastline and hills All of it pulls me towards both the past and the future.
Each community that I have chosen to represent has it's very own past to discover. Some of the elements are easy to see and appreciate while others have to be carefully scrutinized and brought to light.
This area is growing by leaps and bounds with new energy, space, and has such a diverse collection of historical worth. It makes me want to explore more and more each time I come.